Period Style Rooms at Bank House
We have four lovely airy rooms. Beautifully decorated each with its own spacious en-suite all having double sized showers. Each Room has been equiped with restored beds with upholstered bases and high quality mattresses. The cotton bedding. (our own linen which we launder ourselves using environmentally approved products). In each room there is a digital flat screen tv with free view and a DVD, hairdryer, coffee and tea making facilities and alarm. In your en-suites we provide handmade toiletries from Pure Lakes based in the Lake district, made with sustainably sourced ingredients including organic sunflower and coconut oils, Aloe Vera and pure essential oils. 'Natural skin care that doesn't cost the earth'. These are large refillable bottles (no small difficult containers which are difficult to open and don't hold very much).
We also supply a generous amount of towels and flannel. You will find cotton pads and cotton buds along with other toiletries in the ensuite. We also stock a few emergency supplies. just in case.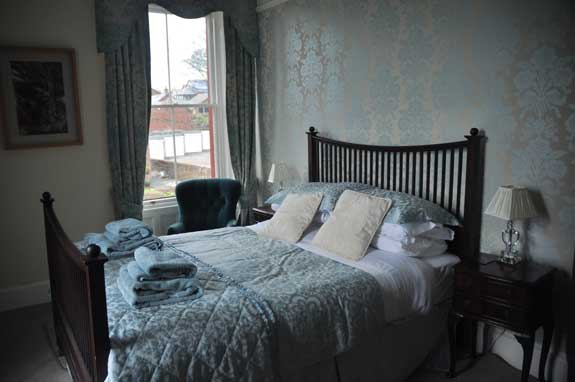 King room with View

Delux King Bath with View

Twin room
King room with View
This room is a large room with a fantastic view over Penrith to the Lakeland Fells. It has a king size bed with top quality mattress. Other facilities include large waredrobe, dressing table, comfortable seating with tea and coffee making, hairdryer and a large smart tv, etc. The large ensuite has a double size shower.
Delux King Bath with View
This is simply a stunning room with a mahogany king sizer four poster bed in a very spacious room with a seating area or if need be room for another bed. It has amazing views over Penrith to the Lakeland fells. It has a large wall mounted smart tv and the usual tea and coffee making facilities.. The spacious ensuite has a large bath.
Twin room
Also a very spaciousroom with Queen Anne twin beds large wardrobe and chest of drawers. The spacious ensuite again has a large shower and has beautiful wooden panelling. Again all the usual facilities of tea and coffee making and hairdryer
Double with view
Room four is a lovely room with an original Victorian serpentine bed with marquetry work. It has two windows facing the garden, there is plenty of seating and all the usual facilities.